Project: Glamorous gray and white master bathroom remodel with a bit of bling in Stoneham, MA.
Our client wanted to change a few things in her master bathroom, and she was ready for a fresh new look. She wanted to relocate the toilet, as the original builder awkwardly placed it in front of the door. She also wanted to have extra shelf space in the shower to get her shampoo bottles up off the floor and hidden from view when you walk into the room. To create more space for a larger custom shower, we replaced the large jacuzzi tub with a stand-alone soaking tub.
Her vision started with a beautiful waterfall tile design in the shower, and the rest of the ideas for the glam bathroom grew from there!
The first thing you see when entering the room is the gorgeous custom marble shower without a shampoo bottle in sight!
The layout is similar, but the toilet was relocated in front of the window for a better flow into the room.
The controls for the shower were conveniently placed right inside the door, allowing our client to adjust the perfect water temperature before stepping in.
A soaking tub is a must have in any master bath! A convenient shelf allows space for beautiful accessories, candles, and perhaps a glass of wine!
The angled ceiling created a challenge for our design team. By offsetting the sink, we were able to use a full-size vanity with all of the storage to fit our client's needs.
The smoke glaze gives extra depth to the sand dollar painted finish on the vanity. Coupled with the extra wide mitered edge on the quartz countertop, this vanity really pops!
Do you see any shampoo bottles? That's because the extra deep niches keep them nicely hidden. This was achieved by using 2×6 framing, instead of standard 2×4.
Relocating the toilet not only opened up the space, but gives a better sense of privacy.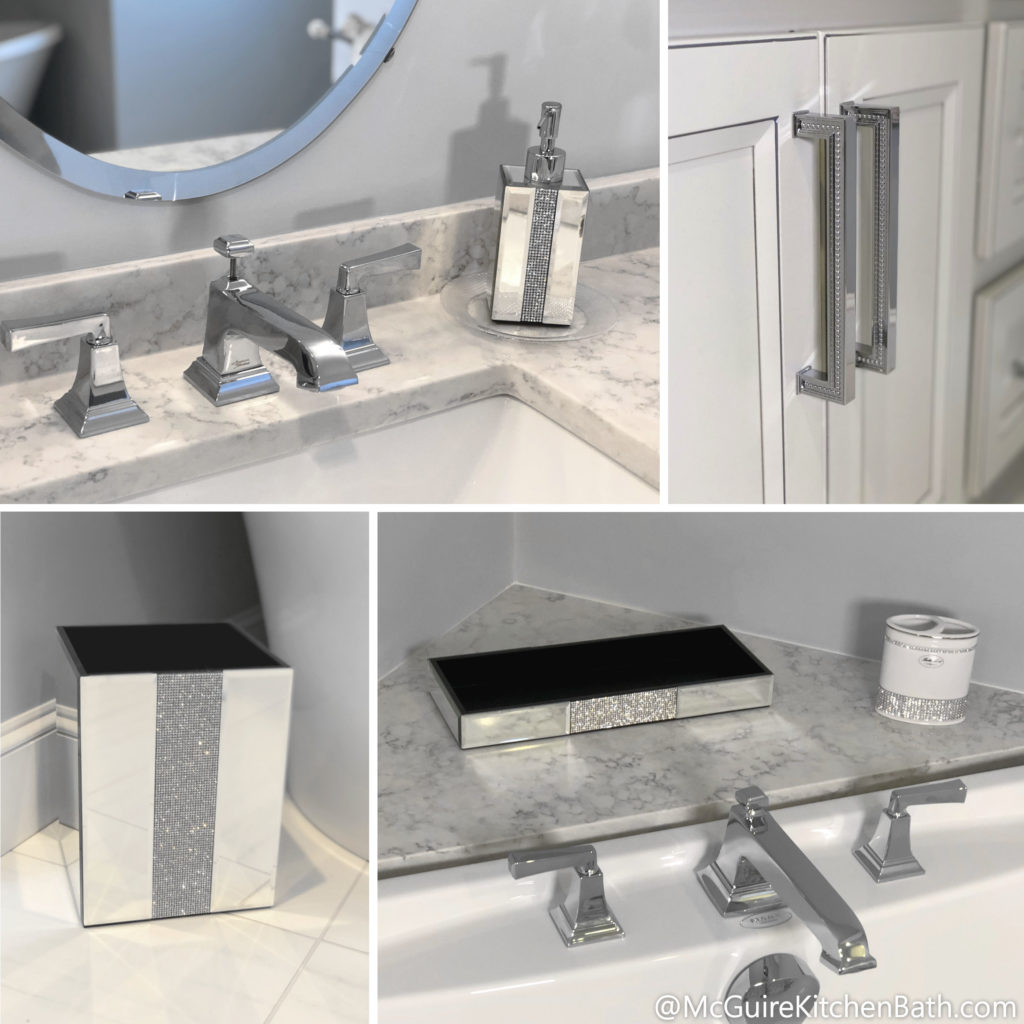 Our client really knew how to bring the bling into her beautiful glam master bath! Her choice of cabinet hardware and sparkling accessories give the perfect finishing touch!
To see more pictures of what this bathroom looked like before the remodel, please check out our Before and After Gallery.
If you're ready for your dream bathroom, let us help you! Please contact us today for your free consultation.
Call today at 781-243-4141